Quotes are fun and can leave a lasting impression when used at the right time and the right place. Using quotes to sign off an email can inject some humor, philosophy, or sarcasm in an otherwise plain email. A piece of writing can sound much wiser and wittier when ended with these famous quotations. A tiny utility which randomly inserts quotes at the end of email or signatures is available. Simply called Quotes, the utility puts quotes or famous sayings at one's fingertips.

Available free and can be downloaded via the link here, Quotes can automatically add a random quotation to users' email signature. It supports Outlook, Windows Mail and even webmail program such as Gmail, Yahoo Mail or Live Hotmail. Users who like this interesting program and add some wisdom quotes to share with recipients can download it via the link here.
Once it is installed, first time users need to sign up with Qliner Quotes, the web service where the entire quotations database is stored. Users can customize their own settings at their account; for instance, set the hotkeys to insert the random quotation when the keys are pressed. By default, users need to press Windows key + Q to insert quotations to their emails.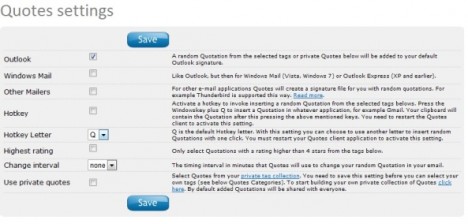 Besides, users can also set the boundary of the quotations which they want to insert. They can categorize the quotations using tags. They can define and add new tags so that the quotations appear are within the personalized collection.


The tiny Quotes application icon will be added into users' Windows Taskbar. Users can right click on the tiny tray icon to login, browse quotes, contribute quotes or change the settings.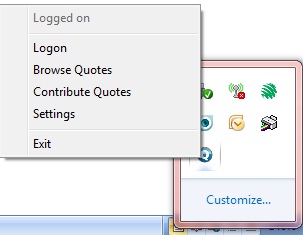 Quotes program supports Windows XP, Vista and Windows 7. With a little bit effort, this free application will make your email more interesting and literary.