For normal computer users that only focus on what computer can deliver in daily work, he or she may not want to spend extra time and effort to go and search for latest drivers or software updates that are necessary for optimized computer performance. If you are one of them, then this useful software tool will able to help you.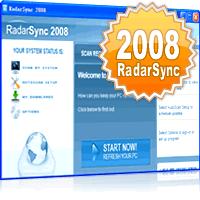 RadarSync, which is also famous with its full list of Microsoft Vista drivers available for download, will actually scan through your whole PC system and come out with a list of recommended device drivers or software updates for both hardware components and application software that you installed in your system. Good thing is, it also provides quick links to related websites so that users can update them immediately with a simple click without going through all the hassle to search for all latest updates through websites one by one.
RadarSync occupies less than 2MB of your hard disk space and is very useful to be installed in any Windows PC systems. You can download free basic version at RadarSync, or get premium version at $29.95 per year with full services include automatic system scan and download.