Safe'n'Sec Personal Pro + Rootkit Detector is a security product that provides multi-target protection of personal computers system from threats and vulnerabilities that cannot be neutralized with traditional antivirus solutions. Safe'n'Sec is an advanced object behavioral analyzer that can be classified as an IPS (Intrusion Prevention System) product, by using advanced technology of malicious code detection – preventive technology to monitor file system, system registry, network and processes.

Features of Safe n Sec Personal Pro + Rootkit Detector:
Detects behavior of malicious and infected with viruses software and BLOCKS their dangerous actions in real time mode
Controls system resources usage
Controls actions of all programs on your PC
Automatically isolates unknown programs
Prevents attempts of malware intrusion into your PC
Protects working documents on your computer from external access
Unique self-education mode adapts Safe'n'Sec running to the working style and habits of individual user
Detects rootkit behavior and blocks malicious actions in real time mode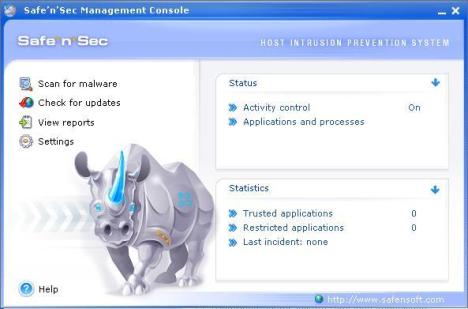 Safe 'n' Sec Personal Pro from StarForce is used to complement, and compatible with traditional security solutions, such as antivirus applications, anti-spam utilities, and personal firewalls, because the latter do not guarantee reliable protection against newborn threats. Safe'n'Sec detects and blocks the malicious activity on the operation system level by intercepting system calls and analyzing system applications activity, preventing any malicious actions of application, computer breaking, unauthorized access through exploit attacks at initial stage. Safe 'n' Sec Personal Pro also protects against change of system registry and state of OS services, and access limitation to user's data (documents, address books, registration data, etc.), including preventing data damage/loss as a result of occasions or user mistakes during PC usage.
Safe'n'Sec also comes with a Rootkit Detector module. This module detects hidden kernel level modules (drivers) and system functions interceptors and searches for hidden processes. Safe'n'Sec RD doesn't use reactive technologies and do not depend on signatures or definite rootkit characteristics.
Safe 'n' Sec Personal Pro is currently available for free download with genuine valid and legitimate license key serial from Avanquest as part of Advent Calendar promotion. To grab your free copy of Safe 'n' Sec Personal Pro, go to the Avanquest Advent Calendar special offer page:
http://web.avanquest.com/special_offers/2008_calendar/calendar.cfm?country_id=3
Then, click on date number 2, and then click on Free Download button. Submit your name, surname and email addressed to receive a free license key (appear to be valid for 6 months or 180 days only) and direct download link to setup installer: SafenSecPersonal_Setup_UK.exe. Normally, Safe 'n' Sec Personal Pro + Rootkit Detector costs € 21,00 for 1 year 1 PC license.
Avanquest is going to publish one offer everyday till December 24th, 2008. Other languages of Avanquest is giving away free software application too. Although the web interface is in non-English language, the software may use in English GUI if it supports multi-languages. Here's a list of other software giveaway on December 2, 2008:
Avanquest Germany: DriverGenius 8 (http://web.avanquest.com/special_offers/2008_calendar/calendar.cfm?country_id=2)
Avanquest Spain: Mah Jong Quest II (http://web.avanquest.com/special_offers/2008_calendar/calendar.cfm?country_id=4)
Note: It's likely that all these free software will be rotating among various language sites of Avanquest. So just for it to appear on the English Avent Calender special offer page.