There are various way that you can save YouTube media clips but instead of going through multiple steps with different individual utility to get this done, why not try this simple but yet useful utility for easier workaround. Named as Savemedia, it is a one-stop solution that allows users to download and convert any YouTube media clips to predefined video quality at famous formats.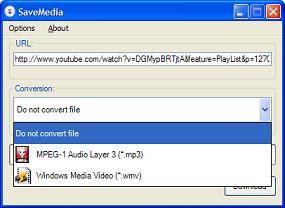 Once download the zip file, remember to unzip the folder to any local hard disk and execute the .exe file from there so that all the plug-ins will be included when launching the utility. The utility comes with very simple and friendly GUI and without the need of complicated setup, users can start to browse and select the desired YouTube clips for download immediately. By copying the YouTube website link into clipboard will get the link nto the utility to start the download directly. Basically there are two options either in MP3 (MPEG-1 Audio Layer 3) or WMV (Windows Media Video) that users can select to convert the YouTube media clips into. On top of this, there is an option to configure the video quality ranging from Normal with 320 X 640 up to HD 1280 X 720 depending on own preference.
Besides supporting the famous YouTube download, Savemedia is also compatible with other websites such as Rapidshare, Vimeo, Tudos and Newgrounds. Good thing is, there is no installation required except the Windows system must have .NET Framework installed for it to work correctly.