Ever wonder how you can record all your browsing activities on desktop to be shared to others? Now with this powerful software utility named as Screen2Exe, users can capture their browsing activities on desktop and convert into executable format so that it can be sharable to third party easily.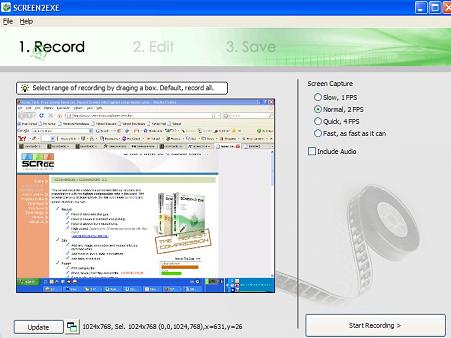 Once install and launch the software utility, click on "Start Recording" and it will start the recording process. There is a way to set the FPS (Frame per second) ranging from Slow (1 FPS), Normal (2 FPS) or as fast as it can in case there is a space constraint on your hard disk system. Users can intercept the recording by pressing Function key F9 or F10 to stop it. After completion, there are some features that allow users to do frame optimizing, add annotations and effects or simply save it into executable file. Good thing is, the exe file is audio enabled so that it makes the whole recording and sharing process more meaningful.
This is especially useful when you want to show your counterparts some steps on how to do certain configuration or when troubleshooting some software installation issues on your Windows PC. Another good usage could be for the lecturers to distribute the training materials to their students for long distance learning program. Screen2Exe is compatible with Windows 2000/XP/2003/Vista and users can get a free download at Screen2Exe completely free of charge.