There are numerous fields in your Windows Mobile device contact lists that some of them can be very important and really helpful in case of any unforeseen situation. For instance, you may not aware that one of the emergency contact names in your lists doesn't contain both the mobile or office number until when you really need that. Instead of opening them up one by one to figure out which one are incomplete, now this simple software utility tool, known as Scrub will be able offer you a helping hand to scrub them through and list down for you in seconds.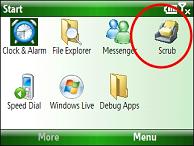 The software utility consumes less than 100kB and can be easily installed into any space constraint Windows Mobile devices. Once download the .cab file, users can just do a quick installation and launch it whenever necessary. Without any further setup, clicking on Scrub button will run the whole scanning and you may be surprised to observe so many incomplete fields such as Incomplete name, Missing mobile number, Missing company name, and etc. All of them will be nicely listed down in various categories with number of contacts that are not incomplete.
Good thing is, users can just click on the respective category to open up all the incomplete contact lists and do a direct edit on it. Scrub is compatible with Windows Mobile 5, 6 and 6.1 and is free downloadable at Trinket Software.