The well-known e-commerce business allowing payments and money transfers to be made through Internet, PayPal has launched its mobile "Send Money" application for BlackBerry smartphones, which allows users to send money quickly to others around the world, as well as check their PayPal account balance and past transactions right from their BlackBerry smartphone.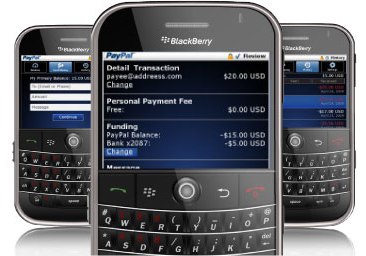 "Any BlackBerry smartphone user who has bought an application on their phone is already familiar with PayPal, as we provide the payment system for BlackBerry App World," commented Eric Duprat, general manager of PayPal Mobile. "We're thrilled that BlackBerry smartphone users now have an easy way to send money to almost anyone with a phone number or email address anywhere in the world, directly from their phones."
PayPal's mobile "Send Money" application is now available as a free download through BlackBerry App World in Canada, USA, UK, France, Italy, Spain, Netherlands, Germany, Belgium, Luxembourg, Ireland, Portugal and Australia.
In additon to BlackBerry, the PayPal mobile app also available for Android platform and iPhone, putting PayPal in the palm of your hand while on the go.