Windows 7 does offer a lot of interesting and more user-friendly features for users. However, the removal of some features could create some inconvenience to users. For instance, Windows 7 has removed the option "Remember each folder's view settings" from the folder option in Windows Explorer; this can affect some users especially those who need to work with multi-monitors and they have configured their Windows Explorer window to open at certain positions and sizes. If you get annoyed with this change and miss the feature offered by the older version of Windows, ShellFolderFix, a tiny and simple utility, can come to the rescue.

ShellFolderFix is a free utility for Windows 7 which can remember the position and size of all individual Windows Explorer windows once you have installed it and set the option. It will thence restore the respective setting when the folder reopens again. This tiny application runs in the background and does it job quietly. Besides saving the folder's position, this tiny utility also provides some setting options such as starting the program automatically at logon, show window titles, show window icons, etc.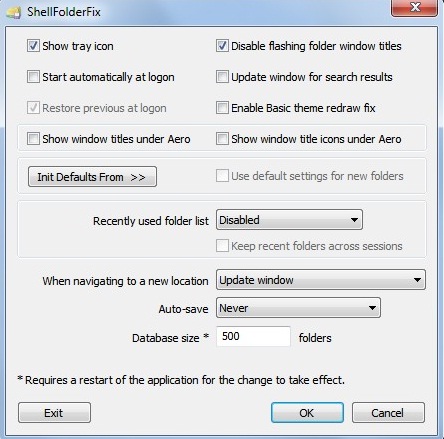 Download ShellFolderFix via the link here.