In conjunction to the latest released of the latest Zune HD firmware 4.3 update, Microsoft has introduced six new 3D games for the Zune users to download including PGR: Ferrari Edition, Lucky Lane Bowling, Vans Sk8: Pool Service, Piano, Checkers and Audiosurf: Tilt.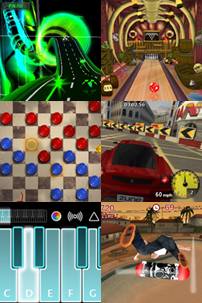 The description of each game title as below:
PGR: Ferrari Edition – Tear through the streets of London, Tokyo, and New York using intuitive tilt and touch controls. Choose from 12 Ferrari cars and test your skill in 33 events in Career Mode. Go head-to-head against three other players in a wireless network race. Share your records with your friends and race their ghost cars in Time Trial mode. Earn kudos for racing with style—it's not just winning, but how you win that counts.
Audiosurf Tilt – Ride your music! Choose any song from your music collection and watch Audiosurf Tilt turn it into a unique roller coaster track for you to ride. The song you choose determines the shape, the speed, and the mood of each track. Tilt your Zune like a steering wheel to collect colored blocks and avoid speedbumps. Unlock more than 30 designs, each with its own special theme and color palette.
Lucky Lanes Bowling – Bowl in three different game modes: exhibition, blackjack, or golf. Play in five different bowling alleys with unique themes. Choose from 20 bowlers and 22 ball styles. You can play against the computer or play with up to four friends.
Vans Sk8: Pool Service – Whether it's the swanky rooftop of the Admiral, or the old abandoned rec center pool, Bucky Lasek and Omar Hassan know a good bowl when they see one. Hit the pools and put these Vans skaters to the test with all the tricks in their bag. Achieve hero status once you unlock their pro model skateboards. Compete in 10 different events with 20 different board designs, including skaters' official boards from Black Label and Element.
Piano – Play your own tune, or play along with your favorite music on this electronic piano that includes 88 keys, plus a dampen and sustain pedal. Choose standard mode, or choose learning mode in which the keys are labeled with each note.
Checkers – The classic board game can now be played on the go. Play against the computer on your Zune HD or against a friend through a wireless connection. The game features the ability to undo as many moves as you want, different colored pieces, and a beautiful outdoor park setting for the menus and game board.
All the games are now available for free download at Zune Marketplace. Go ahead to the below steps to download games or apps to your Zune HD.
Make sure your Zune HD has connected to your computer and sign into Zune by using the latest version of the Zune software. The latest version of Zune software can be downloaded from http://www.zune.net/en-us/software/download/default.htm. /li>
Click on Marketplcae, Apps.
Select the games or apps that you want and then click Download.
Go to Collection, Apps, and drag the games or apps that you want to the Zune player icon to sync them.