SkyDownloader PRO is a downloader for free music, movies, live TV and more. Its home base has been integrated with several tools for entertaining the users by providing smartest and fastest access to millions of songs, MP3s, movies, TV shows, live channels and games. The SkyDownloader PRO combines powerful Gnutella and BitTorrent file sharing technologies with effortless live channel streaming and provides a simple way to download free music, movies, live TV and etc.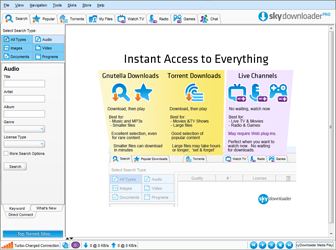 Features of the SkyDownloader PRO includes:
Download quickly and efficiently by using SkyDownloader's sophisticated and proprietary under-the-hood technologies that optimize and accelerate download speeds as much as five-to-ten times faster versus other downloading clients.
Easy to use with fresh and intuitive user interface.
One click access to top artists' CDs, DVDs, ringtones, concert tickets and more via partners such as Amazon.com.
Safe and secure with fr spyware and adware free.
Simple search and organized by category.
Upgraded Turbo-Charged connections.
Blazing fast downloads (up to 25% faster).
Unlimited technical support and free updates.
Faster searches and access to more files.
No Marketing Messages or Ads.
Additional skins and themes.
SkyDownloader is now giving away its SkyDownloader PRO with free unlimited PRO membership for the first 10,000 participants. To grab the free SkyDownloader PRO with free unlimited PRO membership which normally cost $49.95 to purchase, just follow the below steps:
Visit the promotion page at http://www.skydownloader.com/tweet4pro/index.php.

Enter Twitter username and password, or register for a new Twitter account for those without one yet, then click on "Post Tweet" button.
After that enter first name, last name, email and country then click on "Continue" button to download to create SkyDownloader Pro account and the setup installer of SkyDownloader PRO.