Skype iPhone app is a version of Skype for iPhone, iPod touch or iPad which allow users to make and receive calls, and instant message anyone else on Skype. In an effort to make it more user friendly, Skype has recently make improvements to its iPhone app which allow users to make calls through the 3G connections with high quality sound and supports multitasking. With this upgraded the users able to receive calls and instant messaging while running other applications.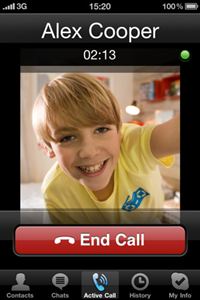 New features of the Skype 2.0.1 for iPhone includes:
Run Skype in the background with multitasking in iOS4.
Receive Skype calls and IM while other apps are running or when the iPhone is locked. The users also can continue their call while switch to another application.
Multitasking is available only with iPhone 4 and iPhone 3GS.
The new version of Skype for iPhone works well on iPhone, iPhone 3G, iPhone 3GS, iPhone 4, iPad and iPod touch with iPhone OS version 3.0 and above. It is available as a free download from Apple App Store.
Update: Skype for iOS 3.0