Sometimes while you are typing an email, preparing a document or browsing for some information, it could be rather troublesome if you need to open another new browser Windows to look up a definition or translation. To keep things simple, it is worthwhile to have a look at this tiny language tool, Dictionary.net.

Approximately 180KB, Dictionary.net is a lightweight standalone program which integrates Google Dictionary, Google Translate, Google Search and Google Search 4-in-1 into its simple and user-friendly interface. Users can run this application without any installation and find out word definitions or translations for up to 59 languages via the search feature powered by the Google search engine.
Once Dictionary.net is executed, users can type the word/phrase for the definition or translation they need into the search field to get the results. When the program is not in use, the program interface will change to a small clock showing the current time and the program icon will automatic appear in the Windows taskbar.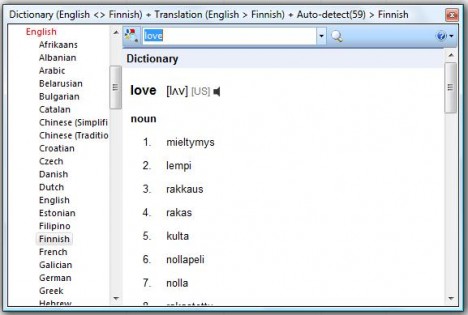 Besides using the search field, this program allows users to have instant search for word definition or translation when they are reading email, word documents or even browsing the internet. The program allows users to customize keyboard shortcut keys or mouse in order to send the word or phrase to the dictionary application. For instance, users can click the middle-mouse button or press Alt+Z to the highlighted word to get the word definition or translation.
Users who want to try this standalone smart multilingual dictionary-cum-translator can download it via the link here. This program requires Microsoft .net Framework 2.0 to be installed in the system before running it.