In effort to encourage mobile developers to create mobile apps for its Google Android OS and Symbian based mobile phones, Sony Ericsson has announced its Sony Ericsson WebSDK at the Web 2.0 EXPO in New York. The Sony Ericsson WebSDK is an open source tool created in collaboration with the PhoneGap open source community which is aimed to web and mobile developers for creating mobile apps by using HTML, CSS and JavaScript programming. The SDK enables JavaScript to access platform features and data such as accelerometer, GPS, Camera and contacts.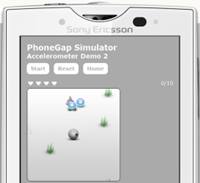 "With the Sony Ericsson WebSDK our focus is on bringing all the capabilities of web technologies to mobile applications and giving web developers wide access to easy-to-use tools and mobile phone platforms." says Christopher David, Head of Developer and Partner Engagement at Sony Ericsson. "We are driving this initiative together with the PhoneGap open source community and invite developers to join us as we offer advanced mobile devices and a clear monetization path."
The WebSDK is being designed for enable the developers to produce applications which work consistently independent of the underlying platform. According to the company, it initially will support for Android (e.g. XPERIA X10) and Symbian (e.g. Satio) platforms.
Nitobi's CEO, Andre Charland added: "Sony Ericsson's collaboration with the PhoneGap community is a huge win for mobile users, developers and the future of the open web on mobile devices. Having already adopted and benefited from open platforms like Google Android OS and Symbian, Sony Ericsson is now completing the puzzle for developers of cross-platform mobile applications."
User who interested can use the following URL to get the necessary tools for getting started with Sony Ericsson WebSDK.
http://developer.sonyericsson.com/site/global/docstools/browsing/p_browsing.jsp