Internet browsing on mobile devices has becomes more and more popular due to its portability and convenience use. However, data download charge rate using cellular network is still expensive in certain country and you may be surprised when receiving bill statement by end of the month due to unexpected data charges. Now with Spb Wireless Monitor 3.0, you no longer need to worry about this as it will monitor all your wireless data usage (GPRS/CDMA/3G/WiFi) and even Active Sync data transfer through USB with complete data logging and estimated cost.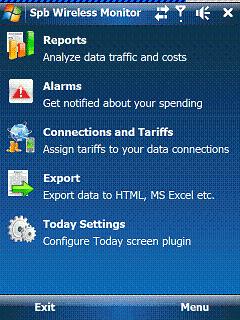 As usual, users just need to download the .Cab file and install into mobile devices via Active Sync. After completing the installation, a soft reset is required in order for it to work correctly. The software comes with simple GUI that allows users to do initial setup to select specific wireless data usage they wish to monitor. Besides, there is a configuration that users can edit, add custom tariff or update tariff database completely through Internet connection based on selective data plan so that total cost can be estimated in certain time frame.
That is not all, users can export all those captured data into HTML or CSV format in case there is a need to submit the actual usage for company expense claim from time to time. In case you need an alarm to alert whenever the wireless data usage hits certain threshold, you can set it accordingly in this powerful software tool.
The software utility is compatible with Windows Mobile 5, 6 and 6.1 and just download the .Cab file at Spb Software for trial and immediate use.