Your removable device such as USB pen drive could contain a lot of files, database and even some standalone apps. Without proper organization and arrangement, it might take you some time to seek for a particular file or program when you need it urgently. To reorganize your messy storage device and house everything under a main menu for easy reference, SyMenu offer users a great help.

SyMenu is an USB application menu. Users can use this application menu to manage and organize their removable device properly. Users can customize SyMenu in a simple and quick way adding links to portable programs, files, Windows commands, folders and urls. However, users need to make sure all the linked items have to reside on the same USB stick or disk even if Symenu supports links to absolute path (such as C:\Windows\Explorer.exe).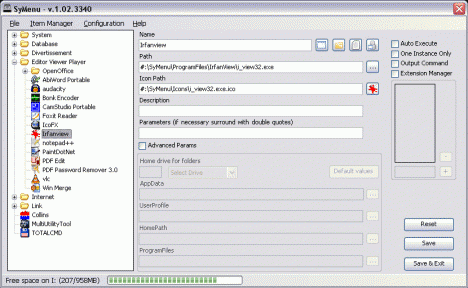 SyMenu is a FREE application and it runs well on Windows 2000, XP, 2003 Server, Vista, 2008 Server, Windows 7 beta (both 32bit and 64bit versions). Users need to have .NET Framework 2.0 or higher in order for SyMenu to run without error. Without .NET Framework 2.0 or higher installed, Windows will prompt users with an error message to tell users that the application cannot be installed.
Summary of SyMenu's functions:
Start Search bar: (Windows Vista like) allows users to quickly search amongst any SyItem configured on menu;
Windows Start Menu wrapper: SyMenu exposes through Start Search bar every program linked in host PC Windows Start menu too;
Extension Manager: allows users to temporarily replace normal Windows extension associations with SyMenu custom extension association;
Autoexec: allows users to launch a SyItem custom list at SyMenu startup.
SyFolder: allows users to organize their SyItem in a hierarchical way
Download link for SyMenu.