Windows Mobile device is good for its small form factor and portability that allows users to hand carry it anywhere conveniently while able to serve as a mini computer whenever it is needed. Just in case you need to remotely access your PC system at home while you are away, as long as there is internet connectivity and this software in place, you can do it on the fly with simple setup. Named as T2 Remote Touch Beta 2 version, it is an improved version from previous Beta 1 version with optimized memory allocation that let users controlling their home or office PC system using Windows Mobile Device remotely.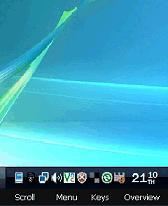 Once you download the zip file, there are two application files that you need to extract. Just install the Remote Touch Server into your desktop PC (that you plan to do remote access), followed by the Remote Touch (Client) into your mobile device and you are ready to go. It could be a bit tedious for the start as users need to key in the right IP address (or DNS name) to establish the connectivity between server and client. Not to worry that, there is a comprehensive setup steps together with the video clip shown below that will guide you though in simple steps.
The application software is available for download at Remote Touch Beta 2 free of charge.