If you always have multiple applications running on your Windows desktop, then Alt + Tab should be the one of the most common key combination that you used to switch among those active applications. In case you need some alternative to make this key stroke more user-friendly with enhanced functionality, you may want to try the tiny software utility. Named as TextSwitchXP, it will able to transform conventional icon display mode into some graphical screenshots after Alt + Tab key combination is activated besides some fully customizable and powerful window management capability for more productive work.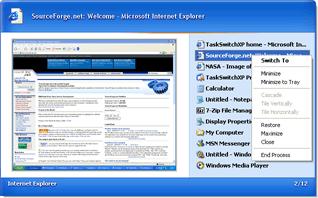 While able to fully replace conventional Alt + Tab functionality, the software utilities even supports some hot keys that can be used to control applications and instances list, configure, show/hide system tray icon and many more. In terms of preview styles, users can choose either 'desktop' or 'Window' preview mode based on own preference. Besides, it features some customization on appearance settings such as the position on screen, preferred draw mode as well as some shadow or transparency effects to make the appearance and usage even more attractive.
TaskSwitchXP works great for Windows 2003 and XP OS (Operating Systems) and with the system memory consumption of less than 1MB, it is suitable to be installed in any machines with alternate view of Alt + Tab and enhanced functionality.