CPU does produce heat when it is operating. If the heat produced from the CPU is excessive without proper cooling measures adopted, it will affect the computer's performance substantially. To optimize the computer's performance and keep it running properly, users would have to monitor the temperature of their CPU and other computer components. Users who are using Intel processors can try out Real Temp, a temperature monitoring program designed particularly for all Intel single Core, Dual Core, Quad Core and Core i7 processors.

Technically each core on these processors has a digital thermal sensor (DTS) that reports temperature data relative to TJMax (Temperature Junction Max) which is the safe maximum operating core temperature for the CPU. As the CPU heats up, the Distance to TJMax will decrease. If it reaches zero, the processor will start to thermal throttle or slow down, so maximizing the distance away from TJMax. By controlling the TJMax, it helps the computer run at full speed and more reliably, too.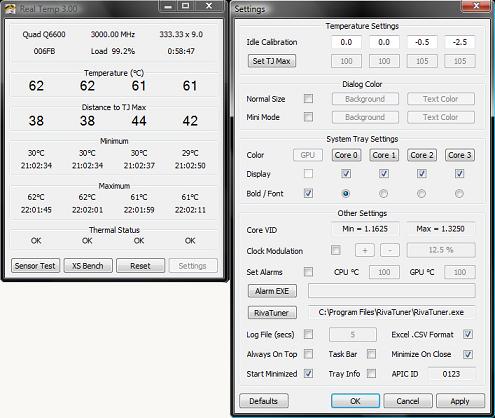 Users who need a temperature monitoring tool can download the latest released Real Temp Version 3.0 via the link here. This app supports Windows 2000 / XP / Vista / Windows 7 (32/64 bit). There are various changes in this version as highlighted below:
Core i7 temperature and frequency support including Turbo mode.
NVIDIA temperature reporting with highest GPU temperature displayed in SLI mode.
Ability to run a file or shutdown based on user defined alarm temperature.
Updated interface with modern XP / Vista style and border in Mini Mode.
Start Minimized Vista issues finally fixed.
New RivaTuner plug-in support.
Extra information on the main screen and the retirement of the toggle button.
Switch to UNICODE for better international support.
Adjustable GUI colors and bold System Tray font option.
TJMax updated based on new Intel documentation and further testing.
Calibration formula simplified.
All new CPU Cool Down Test for a more thorough look at your sensors.
Clock Modulation & Minimize on Close options.
New CPU Load meter, log file headings and Distance to TJMax in the System Tray.
101 other improvements including initial Windows 7 Beta support.
Update: Newer version of Real Temp is available from www.techpowerup.com/downloads/SysInfo/Real_Temp/
More computer, CPU and GPU temperature, voltage and fan speed monitoring and viewing tool available.