Many users especially the tech savvy tend to install many applications or games in their machine. However, too many applications installed always poses a very common problem for users where they will be confronted with a long list of programs and it takes time for them to locate a particular application. One way to expedite the process is to organize all the applications in the Start Menu into various categories so that users can locate a particular application based on its category. Some users perhaps do not want to spend too much time in organizing their applications in the Start Menu. The Handy Start Menu from Chemtable Sotfware probably can be the answer.

The Handy Start Menu is an interesting utility that can help users to organize the massive list in the Start Menu automatically without taking too much time from users. This housekeeping utility will automatically group the applications shown in the Start Menu into categories based on the applications' purposes. This grouping exercise will reduce the length of the application list in the Start Menu substantially. It generally gives users convenience in locating certain applications faster and more easily.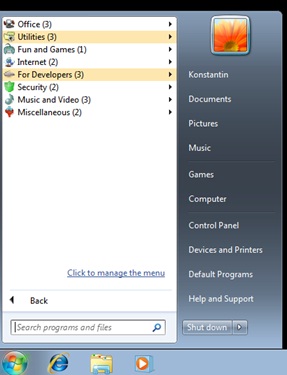 The Handy Start Menu is a free program which can be downloaded via the link here. This utility works for Windows 7 (both the 32-bit and 64-bit editions). The summarized and categorized program list from the Start Menu can be easily reverted back to the original by disabling the application.