Instant messenger enthusiasts should be quite keen and eager to discover this secret and explore the new upcoming Windows Live Messenger 2009, which is planned to be released soon. If you can't wait for the official release from the world's largest instant messaging network, then you can have a taste of it via the latest build of Windows Live Messenger 2009 which was leaked out lately in repors by JCXP.

The leak of the latest build for Windows Live Messenger in the air is 14.0.3921.0717. This version of WLM9.0 is quite similar to the previous version leaked out on August 11 by Mess.be, a popular Windows Live Messenger fan site in terms of features and interface shown in the screenshots published. The new Windows Live Messenger has a pretty fresh new look while maintaining all the popular and interesting features.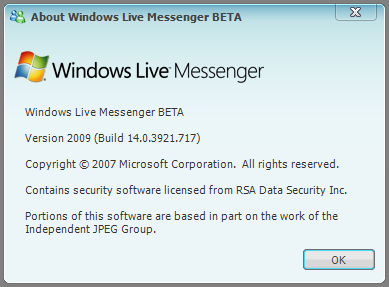 Users can give it a try and enjoy the leaked version by getting a copy of it via the link here.
Update: Microsoft has released Windows Live Beta Wave 3, which includes Windows Live Messenger 2009 14.0.5027.908 for public beta officially.