Do you need to find out where an image displayed on a site comes from? Or need to look for a photo in a higher resolution? TinEye, a reverse image search engine which can give you the answer is now available in Firefox. Users who want to search for an image's origin or information about the image, identify which web pages make use of the image, locate the modified or edited version of the image or look for replacements with higher resolution can add TinEye Firefox Plugin to their browser to get quick results.

TinEye is an image-based search engine which uses image identification technology rather than keywords, metadata or watermark. When users right click to an image from a site in their Firefox browser, users can see an item "Search Image on TinEye" added in the shortcut menu. Clicking on the item will initiate the image search process.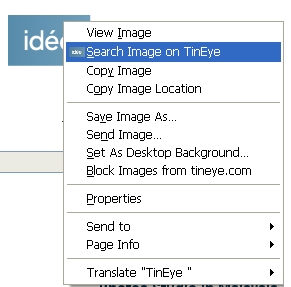 TinEye creates a unique and compact digital signature or 'fingerprint' for it, then compares this fingerprint to every other image in its index to retrieve matches. TinEye will find the exact matches including images that have been cropped, edited or even resized.
Users can download the image search engine, TinEye, as a Firefox plugin via the link here.