UltraExplorer v1.5.0.3 is a great alternative to your default Windows Explorer, which provides additional useful features on top of what can be provided by Windows Explorer. You may found all the windows and tabs to be confusing for the start but once you get use to it, you will never want to return to the previous Windows Explorer for faster and convenience files browsing and management.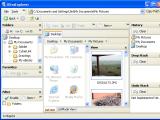 Some of the great features provided by UltraExplorer v1.4.4 can be summarized as below:
Folders Window
It provides treeview Folders that make the files drag and drop easier than conventional.
Favorites Window
It enables favorite tree view with any object positioned anywhere in Windows.
Filter Window
It allows files searching by creating new filter arguments that will help narrow down the search.
Command Line Window
Users can launch a small Command Line Window for those that prefer to use DOS command.
Good thing is, the GUI is fully customizable by adding multiple windows and tabs based on user's preference. I personally prefer the viewer tab that allows the preview of any media clips running in tiny windows whenever you need to look for right media files without launching VLC player or Windows Media player to play it. Consumed around 3.1MB of your hard disk space, you can get a free download at Ultra Explorer free of charge.