VideoToMKV is a tiny video conversion application which able to convert various video formats into the Matroska container format (mkv). The VideoToMKV includes the ffmpeg library for the conversions. The program has been featured with drag-and-drops function that allows the users to add the videos by drag and drop and convert to Matroska video format easily.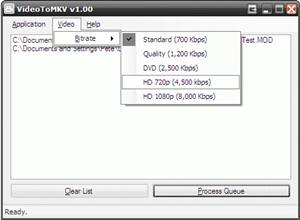 VideoToMKV includes the following features:
Drag-and-drop interface allows queuing up a large number of videos to be converted.
Featured with several configurable bitrates for users to select.
Able to automatically detects .srt and .idx or .sub-style subtitles and will embed them into the output .mkv if supplied.
All of the FFmpeg conversion options are stored in separate batch files which are installed in the program's install directory. Allow advance users to fine-tune on how VideoToMKV converts their videos.
The VideoToMKV supports most of Microsoft Windows platform, e.g Windos XP, Windows Vista and etc. It is available for free download from here. This program does not require additional software installation for it's to function properly.