Virtual CloneDrive is a free application from the makers of AnyDVD and CloneDvd. Virtual CloneDrive works and behaves just like a physical CD/DVD drive. The image files CloneCD can be mounted onto a virtual drive from the hard disk or from a network drive and use the same manner as inserting them into a normal CD/DV drive. It supports multiple types of file images such as ISO, BIN, CCD and etc. Additionally, it also supports up to maximum of eight virtual DVD drives.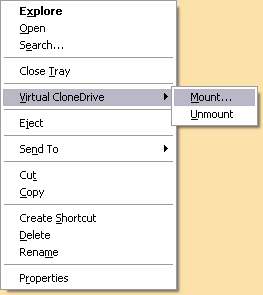 The Key features of Virtual CloneDrive as below:
Supports all common image file formats such as ISO, BIN , CCD.
Supports up to 8 virtual drives at the same time.
Easy to use – just double-click an image file to mount as a drive
Virtual CloneDrive is a freeware and free to download. 
Support most of the Windows OS like Windows 98, 98SE, ME, 2000, XP, XP64, VISTA and VISTA64.
There are more available.