WinAudit v2.27 is a freeware that lets users perform detailed scanning on your PC system with a summary compilation in case there is a need for your IT admin to examine your whole PC system in terms of hardware and software configuration. The software utility will summarize all the various aspect of your PC system ranging from installed software, hardware peripherals, Network TCP/IP, Running Programs, Services, memory usage and many more.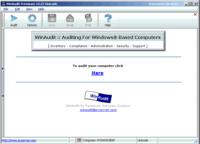 It may sound exhaustive to have all these data scanned and displayed but surprisingly, it took less than 2 minutes for me to complete the 'auditing' on my whole PC system. WinAudit is very easy to use with no special quick start guide required. Without any installation, users can just download the .exe file and execute it directly on the system. Also it can be stored in USB thumb drive to be used to 'audit' other PC system as well. Once completed, it will be displayed in a comprehensive web-page format, PDF, spreadsheet, word and etc that allows users to either save it, get it printed or emailed to IT personnel for further examination.
The freeware is compatible with Windows 95, NT, XP and even Vista. Users can download it at WinAudit to explore more on this powerful tool.