You might always want your computer to execute some tasks or do something when you are away or out for a meeting. For instance, you want your computer to play a song after a timer count down, shutdown or restart the computer after downloading a program, run a program after a period of time, etc. TimeComX, a user-friendly Windows automation utility, will be a useful aid to assist you execute the tasks automatically and thus enhance your productivity substantially.

TimeComX is a simple yet powerful and portable automation utility that can be installed and run in a portable drive such as a USB stick. This lightweight freeware is compatible with Windows, 7, Vista, XP, and 2003 Server. Once users run it, users will be prompted with a TimeComX's simple interface. Users will notice two tabs on the TimeComX window: Event tab and Task tab. The event tab allows users to set the time the events occur via a countdown timer or when the usage of processor/network activity drops to certain level. Users can thence set the activity they want to occur. This program allows users to execute various actions such as restart, shutdown, log off, lock computer, activate the hibernation & suspend mode, wake up & play alarm, play any type of audio-file (mp3,ogg,wma,wav..), execute files ( e.g. batch files ) and create Screenshots before an action.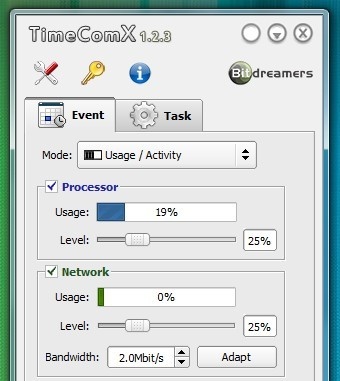 TimeComX is tiny in size and consumes very minimal system resources when it is executed. It can be minimized and hidden in the Windows task tray when not in use. Even though TimeComX is pretty basic, it can be quite handy to perform some basic automation tasks for busy users. Users who are keen on this application can download it via the link here.