Windows Live Hotmail for Mobile, which formerly known as Windows Live Mail Mobile is the version of Windows Live Hotmail that targets small form factor mobile devices that can render either xHTML, cHTML or HTML. Windows Live Hotmail Mobile is now available for download via mobile device. The Windows Live Hotmail Mobile beta released as part of Windows Live Hotmail Wave 3 upgrade, which give Windows Live Hotmail for Mobile users as easy as pie to check mail or transmit message while users are on the go.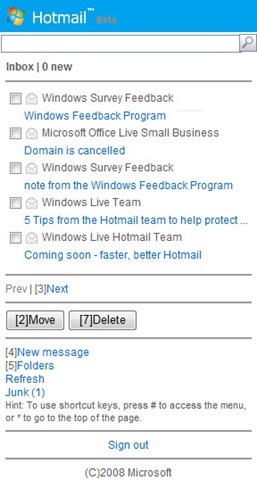 Key Features of Windows Live Hotmail Mobile:
New header and theme
New collapsible Email message header
Search box for fast email searching
First page shows the Inbox straight away
Less images used for navigation, meaning less mobile download usage and saving cost
No ads
Emotion support
Views entire email message in one page (the original one breaks a long email message into several pages)
Simplified address
Message alerts. Even away from PC, SMS access also lets you look up information and interact with friends and family
Windows Live Hotmail users who interest can direct visit http://m.mail.live.com via mobile devices to install these new features.