Worldmate is one of the must have application softwares to be installed in the PDA (Personal Digital Assistance) for the business executives and those that travel to various countries in different time zone. Developed by MobiMate Ltd, this is one of the most awards winning software package since 2000 for various kind of mobile OS (operating system). Good news is, the leading provider has just announced its mobile travel services are free of charge for all Windows Mobile Pocket PC users.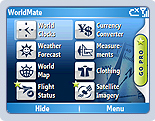 There are quite a number of great features that worth to be mentioned here. First is the world clock feature, the users are able to view five world clocks simultaneously and they no longer need to keep track of time delta for cross geographic conference call scheduling after downloading the utility. Besides, it has the global weather information that keeps the users up to date with 5-day weather forecast of more than 58000 locations worldwide before departure to the destinations. Some other useful functions such as currency and exchange rate converter, general size and measurement converters are definitely very helpful with quick and up-to-date conversion being made available at only a few clicks on the device. There are more like travel itinerary manager, real time flight status and etc but it would be good if the user can download it and explore more.
The package includes all the necessity that you need in your PDA. It is completely free of charge for download here and it will only take up not more than 4MB of your device's memory space.