If you are bored with your current screen saver or wallpaper on your desktop screen, you may want to try this. Named as WPanorama, it is a freeware that can turn your PC screen into 360 Degree Panoramic view. The freeware will let users scroll in both horizontally or vertically and with its customization and flexibility, user will get a totally fresh interface as an alternative to 2D or 3D screen savers.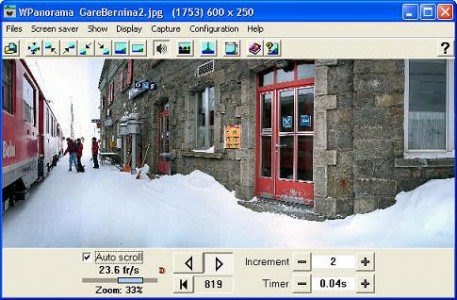 Besides vertical and horizontal scrolling, the freeware includes many great features include 360 degree continuous scrolling, variable scroll increment with different speed step as well as Multi-monitor display support. Just imagine that you can now have few LCD monitors arranged side by side to have the real Panoramic view in front of your PC view. Good thing is, there is also a way to attach music (either in mp3 or wav format) files so that it will stream accordingly with respective Panorama view.
Not to worry about the lack of Panorama pictures, user has choices of over hundreds of different types of nice Panorama view from here. If you think none of them suit you, there is an option to upload own captured Panorama jpg or bmp file at own preference. Hopefully with this freeware utility, it will make your office space more lively with customized Panorama view. Just download the software utility at WPanorama and you can start using it at no cost. It is compatible with all Windows OS (Operating System) from Windows 95, Windows 2000, Window NT and even the latest Vista OS.