If you are looking for a Windows Mobile software utility that allows users to organize, edit and view any images or photos on your Windows Mobile Devices, XnView Pocket could be a good solution. It is specially designed to ease up the usability of photo editing capability on mobile devices, just like what can be achieved in Windows desktop PC.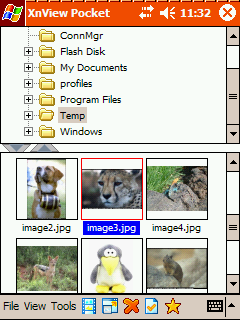 With this utility, users can view their favorite photos or images in 5 different modes: full screen, detail, list, Thumbnail, filmstrip depending on their preferences. This is especially useful when there is a need to browse through the picture folder quickly in tiny mobile devices' screen in much convenience and efficient way. Besides, it consists of highly customizable interface that users can adjust the zoom area by setting it in multiple factors or automatically display the image size correctly with respect to specific screen size. To make it more powerful, the tiny software tool even allows user to edit the original image by cropping, controlling brightness, gamma, contrast and RGB colors. Other than these viewing and editing capabilities, XNView Pocket can do more by letting users to resize the image files based on various factors for the best viewing experience on mobile devices. In case there is a need to do a screen snapshot, it can be achieved in simple taps.
Despite all the powerful feature sets, the software utility is free for download and is compatible Pocket PC 2002-2005, Windows Mobile 5 and 6. Users can download it at XNViewPocket for immediate use.