You might have come across some great music videos or speeches at the YouTube site and you want to extract the audio file only for some reasons, e.g. share the speeches with your students in class, insert the song as background music on some presentation, listen to songs via the MP3 player, etc. There are various software applications which allow users to download Youtube video clips and extract audio to MP3 such as the Free YouTube to MP3 Converter or via web services which can do the same such as VidToMP3, MP3 Getter, etc. There is another tiny and useful application, YoutubeFisher, that can do the same task.

Unlike other audio extract applications, YoutubeFisher is a standalone application which allows users to download a YouTube video or save an audio track only directly from the YouTube site. This program is very small in size and it can easily be stored in a portable pen drive and carried around. YoutubeFisher features a simple interface. Users just need to enter the YouTube url and select download video or extract audio. "Download Video" will download the YouTube video into various video formats, e.g. mp4, flv and 3gp. "Extract Audio" will extract and download the audio track into mp2 format.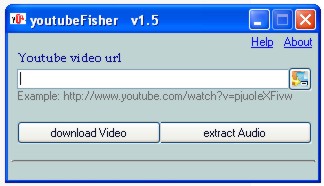 Enter URL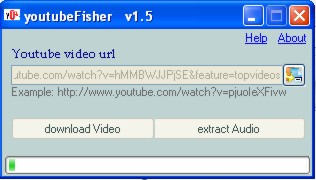 Select "Download Video" or "Extract Audio"
Download Standalone Application YouTubeFisher via the link here.