Gmail has rolled out another great feature recently. This time they have enhanced the Gmail's labeling toolkit, which is located on the left panel of your inbox (or on the right if you are using Arabic, Hebrew or Urdu version) that contains any personal folders either created by you or the default folders come together with Gmail account such as Personal, Travel, Contacts, Trash, Spam and etc. This enhancement has made labeling even easier and more importantly, it helps you stay organized with proper folder arrangement at own preference.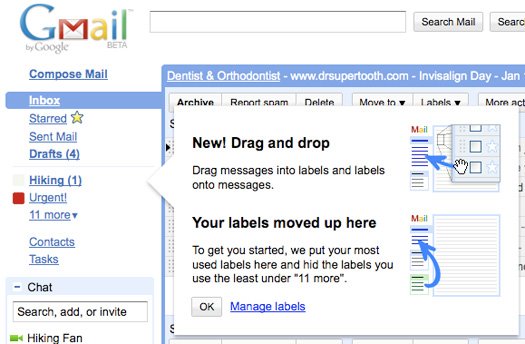 By having drag and drop feature enhancement for labels, you can now move your messages from inbox to any folder as you preferred easily. Just drag the message which you want to move, then drop it into the desired folder and that is all. If you do it in reverse order, drag the folder and drop it into the message, then the message will be labeled with folder name. To move or label multiple messages at one time, just tick all the messages, then drag these messages to the folder or vice verse. Besides, you can arrange your folders by using drag and drop feature as well. For those seldom used folders or labels, you can drag and drop them into "more" menu to hide them so that they look more organized and neat.
This is definitely a good feature differentiation as you normally don't find it in other email providers. If you don't see this feature available at your Gmail now, probably you can check it from time to time as it will be rolled out soonest possible.