For Dreambox users, It is always desirable to have a portable satellite finder for dish positioning on roof top without relying on bulky TV when installer trying to adjust or fine tune the dish for certain FTA (free-to-air) channels from the sky. But if you have budget concern to purchase a portable satellite finder that may only be used once, the app released in Market for Android mobile device could be one of your best options. Named as Dreambox Satellite Helper, it is a tiny useful app that can be installed on any Android based device to connect via WiFi and stream useful information such as signal strength (SNR, AGC, BER) value besides ability to control your Dreambox remotely using its built-in GUI.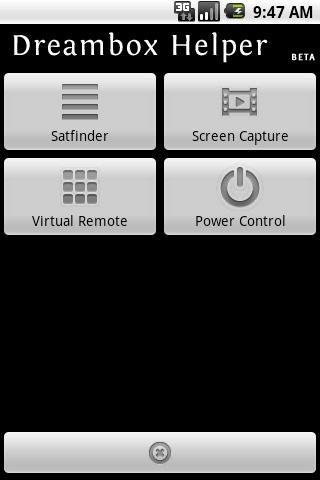 For the start, just head over to Market and search for Dreambox Satellite Helper followed by a download/installation and it is ready to be used. Ensuring both your Enigma-based Dreambox decoder and Android based mobile device are in the same LAN network, launch the app and you will be prompted to key in the Hostname/IP of your Dreambox decoder (can be read from the Communication Setup -> IP address) and also necessary information to establish connection. Once successful, you will able to find the satfinder screen where users can monitor the signal strength change with corresponding to the dish positioning adjustment in real time. Besides, users can even do a screen capture so that the image that being displayed on TV can be seen on your mobile device while doing the adjustment on roof top (with condition that your WiFi signal coverage is good). To make it more useful, there is a virtual remote control interface that resembles your actual remote control and by pressing on any of the touch screen buttons, users will able to control the channel switching, power ON/OFF, volume button and more without sitting in front of Dreambox with line of sight limitation on Infra-red remote control.
Good thing is, Dreambox Satellite Helper is totally free for download from Market and is compatible with all Android based mobile device so just grab one to try this out yourself.