A device driver software is an important computer program for applications to communicate with a hardware device.
Therefore, it is important to backup a copy of the device drivers of your PCs. Driver Magician is a Windows application which has been designed for device drivers backup, restoration, update and removal. After installing this application, all the device drivers in the system can be extract from the hard disk and backup a copy for re-install back when necessary. Besides that, it also has built-in database of latest drivers with the ability to auto update from the Internet.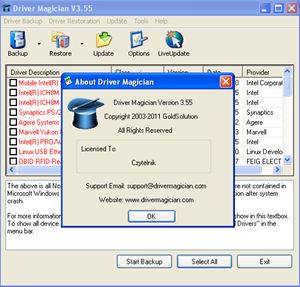 Key features of the Driver Magician includes:
Back up device drivers of  computer in four modes.
Restore device drivers from backup in one mouse click.
Update device drivers of PC to improve system performance and stability.
Uninstall device drivers.
Live Update device identifier database and driver update database.
Detect unknown devices.
Back up more items such as My Documents and Registry.
Restore more items from backup.
Get detailed information of the hardware drivers.
Clone all drivers to an auto-setup package (.EXE), so the users can restore drivers without installing Driver Magician.
The PC World has teamed up with GoldSolution Software to give away Driver Magician 3.55. Those who interested to get a free copy of Driver Magician 3.55 which normally cost $29.95 to purchase, just follow the below steps:
Download Driver Magician 3.55: DriverMagician.exe
Install and register Driver Magician 3.55 with Registration Name "Czytelnik" and Registration Code "7ELF9d9f39-385B3"