DriveSentry claims to be providing next generation (Security 2.0) of PC protection technology with complete security solution for anti-virus, anti-rootkit and anti-spyware functions. Drive Sentry offers proactive virus detection and removal plus 100% protection from latest viruses, up to the second security for system and personal data, enabling user to work, play and interact with your computer with confidence, both online and offline.

Features of DriveSentry:
Protects all drives including removable and external drives.
Monitors and logs all program access.
Only allows 'good' programs to access your drives.
Protects your system and personal data.
Protection from Zeroday threats.
Realtime automatic updates to your local Advisor database.
Protection from known and unknown threats.
Uses unique whitelisting technology
Scan your system for over 1 million viruses
Realtime program advice from DriveSentry Advisor Community
Automatically blocks and quarantines malicious programs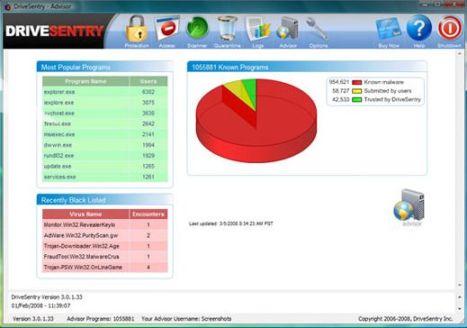 DriveSentry 3.1, the latest version of DriveSentry, is now been released as a freeware for free download by everyone for personal home user on non commercial use. The antivirus program can be used for free for unlimited period, expect that during the first 30 days of use, DriveSentry local signature database will automatically update itself in real time using 'tricklefeed' technology. After 30 days of use, user will be alerted when a signature 'update' is required and user has to initiate the process manually. User can activate realtime 'tricklefeed' signature updates for the lifetime of user's system for a small one off payment to ensure up-to-date latest white and blacklisted program signatures.
Download DriveSentry 3.1. After installation, enter the serial code that is provided inside the program to activate the product free usage. DriveSentry 3.1 supports Window 2000/XP/2003/Vista.