Posted:
November 26, 2008
/
Under:
Operating Systems
/
By:
My Digital Life Editorial Team
Dr.Web CureIt! utility is a free anti-virus and anti-spyware curing utility that based on popular Dr.Web anti-virus scanner to clean the computer from infected virus and various unwanted codes. With Dr.Web CureIt!, users can quickly scan and cure, if necessary, a computer running on Microsoft Windows 95 OSR2, Windows 98, Windows Me, Windows NT 4.0, Windows 2000, Windows XP, Windows 2003 and Windows Vista without having to buy and install Dr.Web Anti-Virus full product.

Dr.Web CureIt! can detect and remove rootkits, mass-mailing worms, e-mail viruses, peer-to-peer viruses, Internet worms, file viruses, Trojans, stealth viruses, polymorphic viruses, bodiless viruses, macro viruses, MS Office viruses, script viruses, spyware, spybots, password stealers, keyloggers, paid dialers, adware, riskware, hacktools, backdoors, joke programs, malicious scripts and most other malware.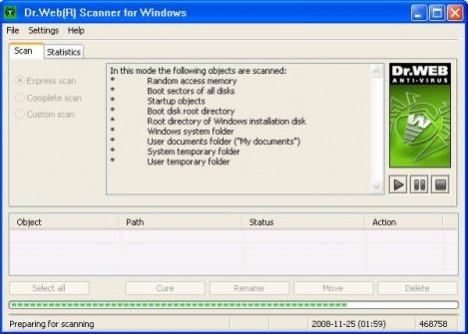 In fact, Dr.Web CureIt! is exactly the same with regular on-demand portion of Dr.Web Anti-Virus program, except that CureIt! does not include the Dr.Web Automatic Updating utility. It means that users of Dr.Web CureIt! won't get the latest program and virus signature database updates automatically. However, the Dr.Web CureIt! package distributed from freedrweb.com is always updated with hottest and latest most up-to-date add-ons to the Dr.Web virus database, going at the rate of up to twice per hour frequency at the period of high malware submissions. The workaround is to always download the latest copy of CureIt! before using, or upgrade to full version Dr.Web Anti-Virus (free license key for Dr.Web Anti-Virus available). In fact, the splash screen of CureIt! after launching displays "Update" link that allows users to download new version of executable directly.
To use Dr.Web CureIt!, download launch.exe. Run the utility and press the "Start" button in the splash dialog box, and then click on OK button to confirm start of Express scan. Once Express can is completed, the scanning results of the main memory and startup files will be displayed, and users are free to select Complete scan or Custom scan mode to scan all or just some drives of a computer. During scanning, infected files are cured and cleaned, incurable files are moved to the quarantine directory.
Dr.Web CureIt! supports the following 34 languages: Russian, Arabic, Armenian, Belarusian, Bulgarian, Chinese (Simpl.), Chinese (Trad.), Czech, Dutch, English, Esperanto, Estonian, Finnish, French, Georgian, German, Greek, Hungarian, Italian, Japanese, Korean, Latvian, Lithuanian, Norwegian, Persian (Farsi), Polish, Portuguese, Slovak, Slovenian, Spanish, Thai, Turkish, Ukrainian and Vietnamese, with ability to automatically detects the language of the OS it is installed to and sets the scanner interface accordingly (if the local language is not supported, English is enabled).