Headache on how to house keep and clear off duplicated files that scatter all around the hard disk drives, USB flash drive or key, and portable mobile hard drive? There are probably many files been duplicated, or copies of identical files that been made over the course of using computer. If you regular comes across duplicate identical files, and want to delete off and clean these unnecessary files away, Duplicate File Hunter is one such utility to help you do so.

Duplicate File Hunter able to find and locate duplicated or identical file in a couple of minutes. The search results for any duplicates will be displayed in the form of table. All duplicates are divided into groups highlighted in different colors for better perception. Users can remove the duplicates that do not need by selecting them and pressing the Del key.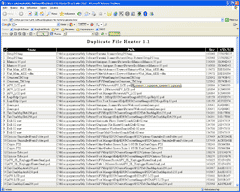 Giveawayoftheday.com is giving away genuine license for full version of Duplicate File Hunter by Styopkin Software, provided user install the software today (July 2nd, 2008).
Download the free Duplicate File Hunter.
Use the following registration key to registry the program and activate it as full version:
0orEnObgDt4pZr/93pN1Lq7JqI8epS
1KLMlSnzoNd+yCU1fxUrgesMIk5toT
zibcRGc6AsgHdB85r7enBzBgFfdfew
5tRcRYzmb5YUSjETdfyswAK8Chgz3X
XlMZq37iSfCNqfwKxf7PT3UR4ky8dx
r1rnpbqL4NGmeKonoHehSI=
For backup, simply download the Duplicate File Hunter setup installer, DuplicateFileHunterSetup.exe from author's site to install and then register using license key code above.