The world`s leading wireless entertainment publisher, EA Mobile has debuted the most legendary football franchise in the history of sports for iPhone and iPod touch – Madden NFL 10, which delivers the most authentic, hard-hitting experience in football, taking full advantage of iPhone/ iPod touch's Multi-Touch screen for drawing routes.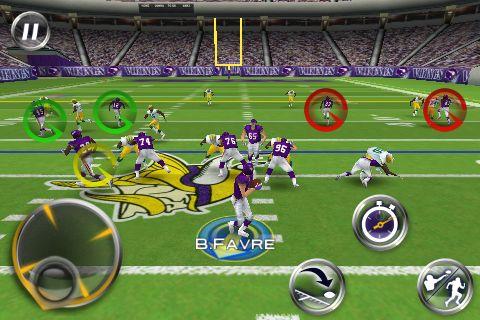 Highlights Of Madden NFL 10 (iPhone And iPod Touch):
Dominate the field with rosters packed with your favorite NFL players from all 32 licensed teams – nearly 2,000 players
Play in authentic stadiums against life-like players on real NFL teams
Utilize innovative Multi-Touch controls to draw hot routes for passing plays
Action Control Time lets players adjust the speed of their game whenever they want, allowing for more user-driven gameplay
Play a quick one-off game, or try the robust season mode that features in-depth trades, stats and individual player rewards
Advanced roster management feature gives players full control over depth charts, cross-team trading, and access to huge free agent pools
Unmistakable voice of John Madden who will provide in-depth commentary
Colorful analysis from other renowned announcers such as Tom Hammond and Cris Collinsworth
"We think fans will be impressed by the amount of detail and authenticity in Madden NFL 10, as well as by how intuitive it is to just pick up and start playing," said Travis Boatman, VP Worldwide Publishing at EA Mobile. "We really took advantage of the platform`s unique capabilities so players have a new way to interact with the game. They can control the speed of the game as it unfolds to make the right call, draw routes on the screen for pass plays or with the swipe of a finger, kick a winning field goal."
Madden NFL 10 for iPhone and iPod touch is now available through the App Store for about $10.