If you are the user who likes to change wallpaper frequently (Microsoft only adds such support begins from Windows 7 with feature), then Wallpaper Changer may useful for you. Wallpaper Changer is a freeware application which is wallpaper manager that able to auto change the background images on every startup either by once a day or at regular basics. It support a few types of images file format include JPEG, PNG, GIF and BMP. It also features with the ability to automatically tiled, centered or resized to full screen and analyze the picture by determine the best matching background, most readable icon caption color for every wallpaper that you apply to desktop.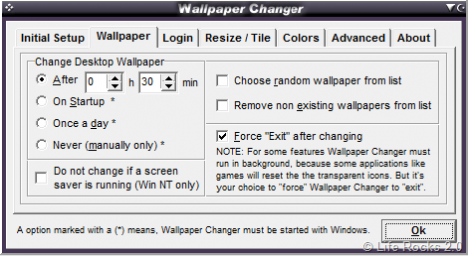 To create, save and reload your collections of favorite wallpapers for desktop background rotation is simple and easy. You can add a single pictures or whole directories via drag and drop from explorer or search your hard drive for all supported graphics. Additionally, it also able to give your desktop icons captions a transparent background, so more of your wallpaper shows through.
Wallpaper Changer is available for download and does not require any installation, just place WPCSetup_v1.90.exe to any folder you like to run the application.