There will be a lot of temporary files created during downloading files, searching the web and etc. It might consume a lot of disk space over the times and cause the systems slow. Therefore, frequently clean up this unused temporary files is essential. CCleaner may help you to clean it faster and easily. Piriform has recently released the latest version CCleaner v2.13. CCleaner is a freeware systems optimization, privacy and cleaning tool. The extra C stand for "Crap" and it help you clean up the systems.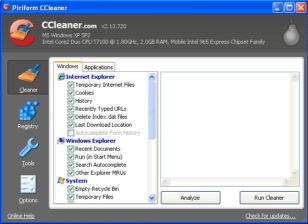 CCleaner allows the user to remove unused temporary files from internet browsers and other supported application along with browsing historical, cookies and Auto complete from history. It also able to clean up the recycle bin, memory dumps, file fragments, log files, systems caches, application data and various other data. Additionally, the program also includes a registry cleaner to locate and correct problems in the windows registry such as missing shared DLLs, unused file extensions and application path.
The below is the new features of CCleaner V2.13:
Added support for Firefox 3.1.
Added right-click cleaning and analysis for individual items in the tree view.
Add icons to tree parent items.
Added cleaning for Windows Error Reporting files.
Added include/Exclude list editing.
Improved TypeLib registry cleaning.
Fixed Index.dat bug that could cause a crash.
Fixed bug with INI warning messages.
Internal architectual improvements.
Fixed minor GUI errors.
Download CCleaner 2.13: ccsetup213.exe
Update: