East-Tec Eraser 2010 is a powerful, simple-to-use Internet privacy software which designed to protect your private identity and confidential information, as well as clean all evidence of your computer and Internet activities.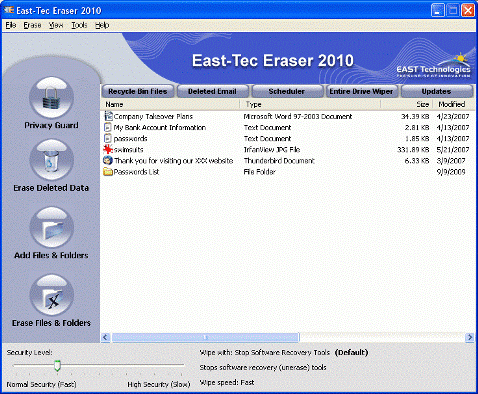 Main features of East-Tec Eraser 2010:
Deletes all evidence of your online activities including web pages, photos, movies, video clips, sounds, e-mails, chatting conversation history, AutoComplete and so forth
Destroys traces of documents and pictures you've recently accessed
Supports highly-popular Web browsers including Internet Explorer, Mozilla Firefox, Google Chrome, Opera and Safari
Compatible with wide variety of popular programs like messenger, email, news, player and P2P programs
Remove cookies placed on your personal computer by Web sites
Permanent erasure of digital information aimed for ultra-secure deleting experience
East-Tec Eraser 2010 normally costs $49.95 per 1-year single license. As part of PC Advisor promotion, interested users can grab a free 6-month license serial key for East-Tec Eraser 2010 full version.
To download East-Tec Eraser 2010 (6 months) for free, follow these steps:
Visit the promotion page to complete a registration form.
Shortly, an email from EAST Technologies Support containing a link (Get Free Key) will be delivered to your registered inbox.

Click "Get Free Key" and you will see a new web page.

Press "GET FREE KEY!" and you will see your free license code for East-Tec Eraser 2010 instantly.
Download the setup installer of East-Tec Eraser 2010 from here.