If you have multiple short video clips and intend to combine them all, you can try this software utility. Named as Easy video Joiner v5.21, it allows users to merge all the individual media clips regardless of file formats to simplify the viewing and storing process.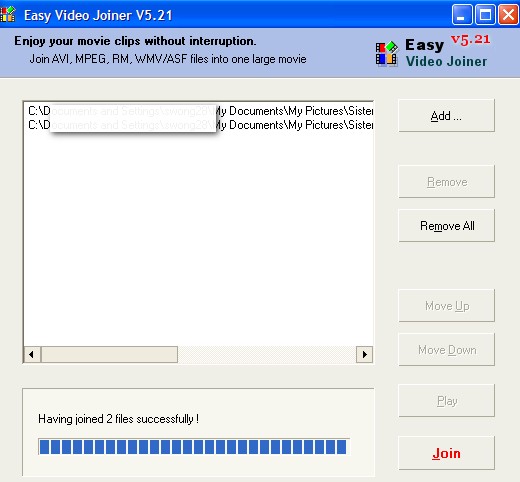 As the name implies, Easy Video Joiner is very easy to be used. Once install and launch the software utility, just click on 'Add' to browse over all the media clips that are intended to be merged followed by 'Join' button click. Generally it takes few seconds to complete the process depending on the file sizes. Good thing is, the tool can even combine different formats media files such as AVI, MPEG, RM, WMV and etc into a single file.
This is especially useful when your digital camera is not friendly enough with limitation of video capturing duration and hopefully with this simple utility, you will still able to enjoy long video clips without the need to upgrade to higher end camera. If you think this is useful, just download it here at no charge for immediate use.