Bell Mobility and Samsung Electronics Canada have announced the launch of Samsung Reclaim, which the companies claim as the first full QWERTY, full-featured mobile phone available in Canada designed with environmentally-responsible components, bio-plastic casing as well as fully recyclable packaging, helping Canadians stay environmentally friendly while staying connected.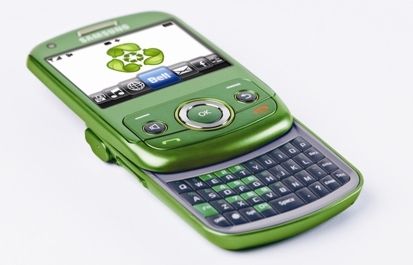 "Samsung is committed to developing environmentally friendly technology that delivers on functionality and style," commented Paul Brannen, General Manager, Mobile Communications, Samsung Electronics Canada. "The Reclaim is the latest example of that commitment, as it provides consumers with a feature-rich messaging device that is not only eco-centric, but also powerful, stylish and easy to use."
Highlights Of Samsung Reclaim:
Slide-out full QWERTY keyboard for high speed text and multimedia messaging as well as email
2.4-inch LCD screen with 320 × 240 pixels resolution
2 megapixel camera with 3x digital zoom and camcorder
Built-in HTML web browser and GPS Nav
Full Track Music, Live TV and SIRIUS Satellite Radio
microSD memory expansion slot supports up to 32GB
Advanced stereo Bluetooth 2.0
Bio-plastic material makes up 40% of the Reclaim's outer casing
The outer packaging and the phone tray inside the box are made from 70% recycled materials
Energy Star approved charger consumes 12 times less power than Energy Star standard for standby power consumption
Standby time: 327.44 hours ; Talk time: 7.55 hours
Available in Earth Green and Ocean Blue colours
"We know our clients, now more than ever, are purchasing environmentally friendly products. This is why I'm especially pleased to add the eco-friendly Samsung Reclaim to what is already Canada's largest portfolio of full QWERTY messaging devices," said Adel Bazerghi, Senior Vice President of Products for Bell Mobility. "Bell's exclusive launch of the Reclaim underscores two of our key commitments: environmental leadership and offering clients an industry leading product line up."
The new stylish, feature-rich Samsung Reclaim which measures 92.8 x 59 x 15.5 mm and weights just 110 grams is available exclusively through Bell Mobility for around $50 based on 3-year service agreement, or pay about $220 to get the phone without contract.