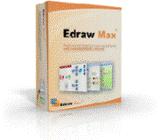 Those who looking for a free Microsoft Office Visio has a good news. Giveawayoftheday.com is giving away the free license of Edraw Max. Edraw Max is a versatile graphics software to create professional-looking flowcharts, organization charts, network diagrams, business charts, building plans, mind maps, workflows, fashion designs, UML diagrams, electrical engineering diagrams, directional maps, program structures, database diagrams and much more.

Edraw Max comes with more than 4600 built-in vector symbols, clip arts, various templates and examples, and features with Microsoft Office Ribbon Fluent user interface. Features of Edraw Max include:
Fully vector-based graphic software, which facilitates the rapid creation of professional-looking flowcharts, organizational charts, network diagrams, maps, and more with themes, color themes, effects, fonts and quick styles.
Drag the build-in shapes from the library pane and drop them on your page for easy drawing.
Gain greater productivity in diagramming with features like automatically aligns and arranges all shapes.
Includes lots of high-quality shapes, examples and templates.
Distinct colors, fonts, shapes, styles, pictures, text, and symbols are available for each diagram object.
Compatible with Microsoft Office and can be integrated with Microsoft Office application easily. The user interface (UI) is Microsoft Office 2007-style like with full ribbon features.
Generics graphic formats support and WYSIWYG printing.
Real-time previews for visualization.
Quick layouts and quick styles. These provide quick formatting options for the object in question, and make it easy to create good-looking slides with just a few clicks.
Ability to export put Edraw graphics into Word, Excel, PowerPoint with one-click buttons.
Text objects supported line space, bullet, Indent, back color, super script, sub script and more.
Can actually control the transparency, amount of blur, and color of shadow.
Table support.
Shape and text presets make it really easy to apply a preset look to an object or text.
Quicker to zoom in and out now using the zoom slider in the southeast corner of the screen.
Recolor picture, light and contrast, transparent PNG support.
Opened the Shape Sheet for senior users to create more complicated shapes.
Insert hyperlink function.
Persistent undo and redo.
To grab your free copy of Edraw Max, download the EDrawMax43.zip to run the setup.exe by today (January 6, 2009). Then register and activate the full version product (through the Help -> Register in the ribbon) with the following registration license info:
License name: Giveawayoftheday
License code: 0701-4914-8900-6153-2525
If you having problem to install EDraw Max through GAOTD copy of setup installer, just download the trial version from edrawsoft.com, and use the same registration key to activate the free full product.