Blink Personal Edition is a complete and total PC computer security product from eEye Digital Security which is famed for Retina Vulnerability Assessment Scanner, Iris Network Traffic Analyzer and Blink Endpoint Security Professional for business. Blink Personal Edition Endpoint Security is an integrated threat management tool that focuses on finding and preventing exploitation of security breaches, and ensure that the computer device (end-point) is responsible for the security itself.

In essence, Blink Personal Edition is similar to most integrated Internet security suite from various security software vendor. Blink Personal delivers integrated multi-layered endpoint protection in a single, lightweight client that replaces multiple security agents, protecting against known exploits, zero day attacks, and all other attack vectors. It provides total PC protection plus Internet security. It includes all-in-one antivirus, antispyware, antiphishing, identity theft protection, plus personal firewalls. Features of Blink Personal Endpoint Security include:
Anti-virus plus Anti-spyware to block and remove viruses, spyware, worms, trojans, and other malicious programs.
Online Identity Protection to protect against identity theft and sneaky phishing attempts.
Built-in Firewall Protection to protect against hackers viewing your personal folders and files.
Automatic Updated PC Protection where intrusion detection prevents remote attacks and unauthorized program use.
Missing Patch Protection that identifies missing music player patches that expose your documents and files.
Computer Settings Protection that uses and protects proper computer settings or prevents hacker access to your information.
Improved Computer Performance – Lightweight, more effective software means faster online and computer performance.
Unauthorized Activity Protection that block covert activities that expose your computer to ongoing attack.
Blink Personal Endpoint Security All-in-One Internet Security with Antivirus software normally costs $25 to buy its one-year subscription license for 1 PC. Now, eEye is giving away one free license with 1 year subscription software usage period after activation for Blink Personal End-point Security (purportedly for a limited period only) for personal and home users in United States and Canada. Elsewhere, you get free 30 days subscription period, although it looks like everybody get 1 year free.
To get the free license of Blink Personal Endpoint Security software for one year from the date of activation, visit the following eEye web page, and enter your email address to register to receive a download link.
http://free-antivirus.eeye.com/
If you don't want to register your email, simply directly download the BlinkPersonalSetup404.exe setup installer. Serial number will be generated automatically online during installation when you leave the "Serial Number" field blank.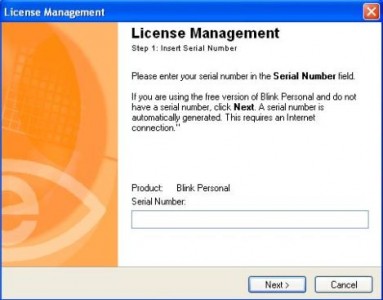 To see the actual serial number assigned to the installed Blink, go to Help -> License Management, then select Transfer License and proceed to tick the check box to remove the license for Blink on the computer. When done, the installed serial number will be shown and user can copy and paste the serial number to transfer it to another computer.