Have you ever facing difficulty on downloading application and looking for alternative download manager? You may try out WideStream. WideStream is a download manager and FTP explorer that can be used to effectively manage your download from HTTP and FTP resources. WideStream supports multi-threaded download that allow downloading several files at one time, to resume broken download, to download from servers that require authorization and much more.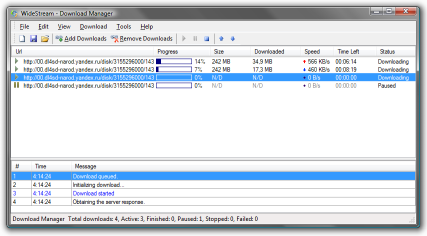 WideStream was designed with targets on speed, simplicity and easy to use. Additionally, it also offers advanced features such as queue management and allows refining the download configuration for experienced users. WideStream is an open source software that runs on Windows platform which support Microsoft .Net FrameWork 3.5.
The below are the summary of the WideStream Features:
Able to multiple simultaneous download.
Authorization for HTTP and FTP.
Able to download from HTTP and FTP.
Support resume broken HTTP and FTP download. It able to auto restart of the failed downloads.
Provide details log for downloads and FTP explorer.
Support HTTP 1.0 and HTTP 1.1.
Configurable HTTP for auto redirections.
Download priorities which are used to favor one download in the bandwidth over others.
Support bandwidth management.
Work with multiple queue definition files, autosave of queue definitions.
FTP explorer history.
Host manager that allows you to store credentials for different sites.
Customizable user interface.
Minimize to tray feature.
Is a freeware and free to download from widestream.sourceforge.net/downloads.php.
No required installation.