Banking on 3D movies as the next new popular entertainment trend, many industry players including Google have actually started eyeing the market. Google is, via its video sharing site, YouTube, in the process of developing a new way for users to enjoy 3D video viewing. Although the development is still very preliminary and in the experimental stage, users can now try the three dimensional visual presentation effect on some of YouTube's video clips via YouTube's new Stereoscopic Player (3D movie player).

Google is currently testing and trying out some video clips in 3D format. Users can check out one of the video clips, Chris Pirillo Community Challenge: Star Trek, here which play at 3D effect mode. Currently there are about 10 3-D viewing styles available to choose from: Red/cyan Glasses: Full Color; Red/cyan Glasses: Optimizer(Dubois); Red/cyan Glasses: B&W; Amber/Blue Glasses: Full Color; Amber/Blue: B&W; Green Magenta Glasses: Full Color; Green/Magenta Glasses: B&W; Parallel; Cross-eyed; Mirror Split; Left Image Only; and Right Image Only.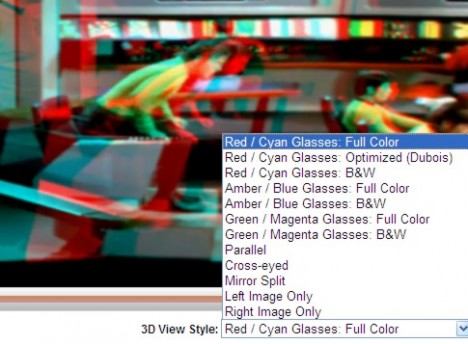 Users might be fancy with the 3D video clips from YouTube and they probably would like to enable the 3D player as well in their uploaded movies. To enable the Stereoscopic player (3D player), a YouTube developer working on this project has listed down some provisional tags for users who want to enable 3D viewing of their uploaded video clips to add in.
yt3d:enable=true
To enable 3D player
yt3d:aspect=3:4
Sets the aspect of the encoded video.
yt3d:swap=true
Swaps the left and right sources. Users may need to add this to videos when the player with fixed anaglyph modes ships.
yt3d:left=0_0.1_0.5_0.9 and yt3d:right=0.5_0.1_1_0.9
These tags are very provisional and most useful for fixing up old videos. They set the source area for each eye as pairs of coordinates x1_y1_x2_y2. The scale of these coordinates is 0,0 for the the top left down to 1,1 for the bottom right.
In addition to the above, the developer has advised in the YouTube forum that users shouldn't use left and right, and that for the best quality videos. Users should make the sources as large as possible within the frame and set yt3d:aspect correctly.