Vista users definitely enjoy tremendously the Window Flip 3D feature available in the new Window Vista operating system which uses the new Window Aero technology. Windows Flip 3D uses the dimension of visual depth to give users a more thorough and comprehensive view of open windows; at the same time it also helps users to avoid chaos when they open too many files. Vista users just need to use the "Start" and "Tab" key to initiate the 3D effect and flip through open windows by using arrow keys or the scroll wheel on the mouse. If you admire this excellent feature and is eager to run the same Window Flip 3-D effect in your Window XP, you can now do it with a unique program, WinFlip.

WinFlip is a special utility to allow you to enjoy the 3 dimensional window effect. What you need to do is download the WinFlip file. The file is compressed with Winzip. Unzip the WinFlip file to a specific location. Once it is done, look for the "WinFlip.exe" file and execute it. After you have executed the file, you can now have your open Windows arranged in 3D effect by pressing the button with the Window sign and the "Tab" button from your keyboard. Your open Windows will be shown in a 3 dimensional style. (Refer to the screen shoot below).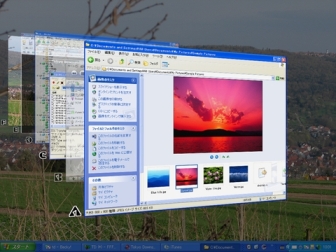 XP users can try the 3D effect as shown in Vista. However, please bear in mind that this utility only supports Window XP and not other OS.