The American hundred-year-old daily, the New York Times, brings digitalized reading content to another level of pleasure by introducing a newer version of its Times Reader. Built on Adobe AIR, the new Time Reader 2.0 runs on multiple platforms and it is compatible with Windows, Mac and Linux system. The new Time Reader makes substantial improvement compared to its predecessor by making the navigation and interface neater and cleaner. With this application, reading digitalized newspaper is like reading a real newspaper. Users can flip the pages and articles using the arrow buttons at the bottom of the page. It echoes the experience of reading a real newspaper but via electronic means.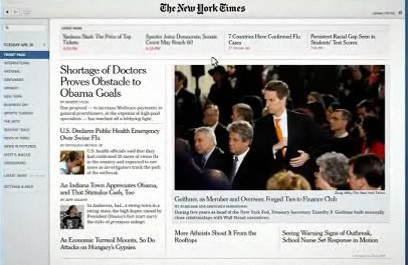 New York Times readers can download the free application via the link here. The app itself is free and it allows users to enjoy free reading on a few sections such as the cover page, Business Day, etc. Users need to pay a monthly subscription fee of approximately $14.95 for full content. The amount is still substantially low compared to real paper subscription which costs approximately $40 per month. This application will automatically keep up to seven days' of paper content for viewing. Those who miss certain news items can always run the app to retrieve the latest old news.
The new Times Reader 2.0 offers users a more real-feel way of reading the electronic newspaper. With the continuous improvement and enhancement, replacement of conventional newspaper with this electronic device may take place very soon.