Logging in to the YouTube video sharing site and browsing for a favorite video clip can be quite a time-consuming and tedious process before you can sit down and relax with the video clip you have chosen. An alternative and easier way for Mac and Linux users is via this useful desktop application, Minitube experience.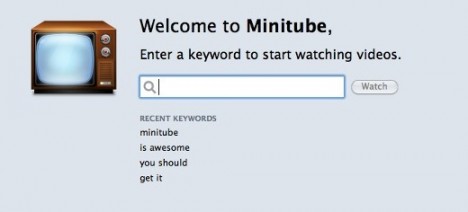 MiniTube is a free and lightweight YouTube desktop application that can give users TV-like experience when watching video from this famous video sharing site. What users need to do is just type a keyword in this desktop application and users will be provided with an endless video stream from Minitube. The program will automatically line up all the most relevant videos from YouTube and play them in Minitube non-stop until an instruction is given to stop it. This program does not require users to install Flash Player to watch any YouTube movies.
Minitube can support and play High Definition videos up to 1080p. With this video quality, users can just go on full screen and watch their favorite vides. Besides, users also can download their favorite video clips to their computer using MiniTube with just a single click. The video will be stored in MPEG4 format. Mac and Linux users can download this application from Minitube's site.